Team Owner can disable TLS 1.0 and 1.1 on Splashtop Gateway to enhance the security or be compliant to PCI compliance. Once disabled, Gateway will enforce all endpoints to run on TLS 1.2 only level.
Step 1: Log into Gateway's management console as Team Owner, go to System > Security, click the Disable TLS v1.0 and 1.1 option

Step 2: In the prompted dialog, Gateway will indicate the important information of disabling TLS 1.0 and 1.1, you will need to click Disable to proceed. Gateway will be started to enforce TLS 1.0 and 1.1 disabled.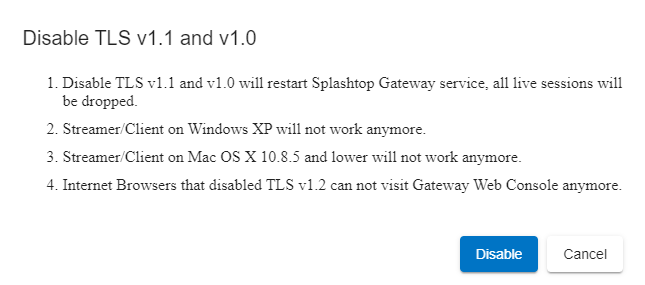 As prompted in the dialog, Disabling TLS 1.0 and 1.1 does affect use of service you might need to be aware of, please read this support article to find out more.