Some of our customers report that when remote controlling Samsung devices with Splashtop SOS or Splashtop Streamer running, there are chances that screen capture does not work well.
With the following information, hope it will work, please file support ticket if you still have issues.
Issue 1
Symptoms
On some Samsung device with elder Knox version, the captured screen might be distorted/broken.
On some Samsung device, when rotating the device, fail to capture the screen, on the technician side, black/white screen or only a partial of screen is captured, or the screen is frozen.
In Work Profile, fail to capture the screen, technician sees black screen.
Workaround
In Splashtop Add-On: Samsung (Knox) 3.4.8 and up, a new capture option added, which will use system's screen capture instead of Knox screen capture, it helps a lot to solve the screen capture issues.
Notice, you need to update Splashtop SOS and Splashtop Streamer to the following version or up to support the new capture option:
Steps:
In Splashtop Add-On: Samsung app, change the Screen capture to system screen capture if necessary.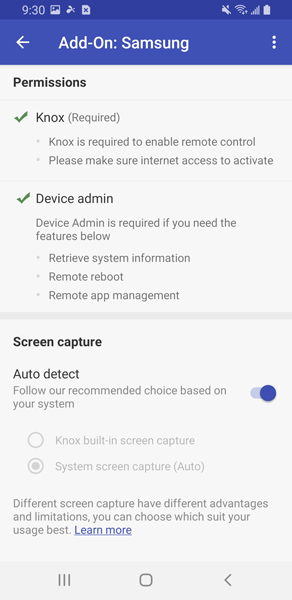 2. Reconnect to the device, when you first time connect to the device, system will prompt screen capture permission info, you need to click Start now to allow app to capture the screen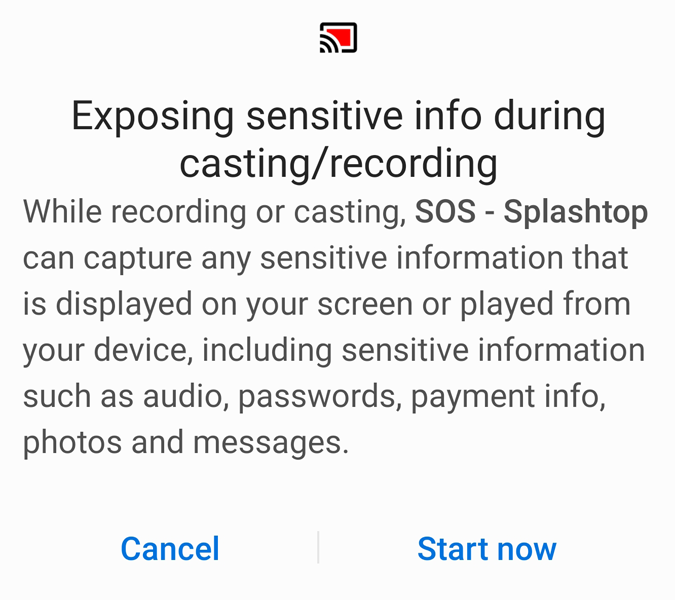 Issue 2
Symptoms
With Knox screen capture, on some device, the Screen is not displayed in the correct coordination.
Workaround
You can change to Screen capture as described in Issue 1, or change the capture degree in the settings if Knox screen capture is still preferred. For this may be vary among Samsung devices and OS, you need to test and find out the right one.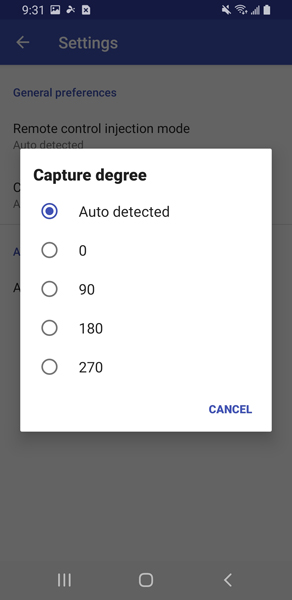 App Configuration
Addon supports configuration of the screen capture through MDM.
Notice: App Configuration has higher priority than manual changes, it will be applied to the app once device being restarted, please always set correct values or don't use App Configuration.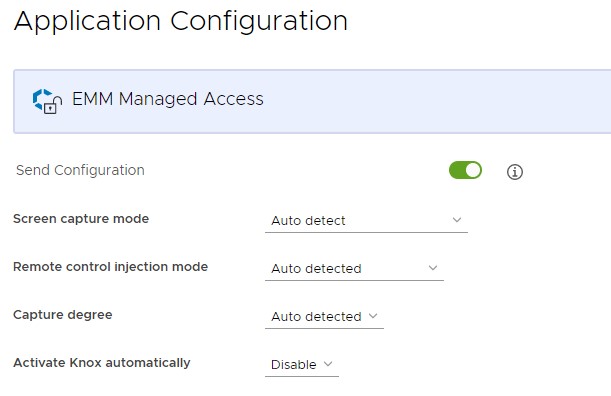 Field
Type
Meaning
Screen capture mode
Select

Auto detect: let addon automatically select the better supported capture mode depending on system and knox version
Knox built-in screen capture: use knox's screen capture
System screen capture: use system screen capture

Capture degree
Select

Auto detect: let addon automatically detect a right degree
0: 0 degree
90: 90 degree
180: 180 degree
270: 270 degree