Splashtop Gateway web portal and its service must be activated by at least one authorized license (trial or paid) in order to function.
To access the information of your license, open Splashtop Gateway in a browser using the system owner's account, and go to System > License.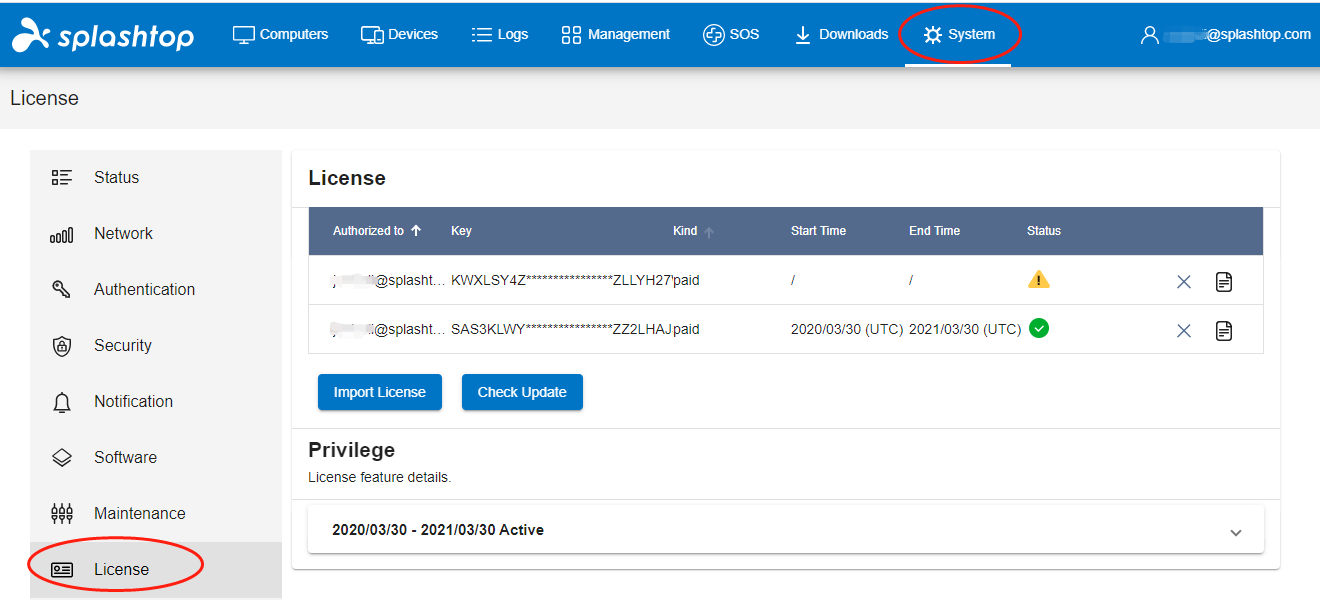 Splashtop On-Prem supports multi-licensing, which means you can apply two or more licenses with different periods of validity and privilege sets to the same system. In the License page, information including license owner, key number, validity and status is displayed for each license.
You can check the privileges coming with the specific license by clicking on the icon at end of the line, or go to the Privilege session and click on the license validity to show its license details.
A license is described in three parts: general, unattended feature, attended feature (also named SOS). An unattended session refers to a scenario where no acknowledgement is required from the remote computer to establish a remote connection, while an attended session needs help from some one at the remote computer to set up the connection. The links below explain the differences between unattended support and attended support.
What are the differences between unattended support and attended support?
Quick introduction to unattended support
Quick introduction to attended support (SOS)
To understand what privileges your license is entitled to, please check the following table which explains the features associated to license items.
Validity
Meaning
Date range
The date range of the following privilege set
Max unattended user
Max number of unattended user accounts can be enabled
Max Unattended Concurrent User
Max number of unattended users can establish the sessions at the same time
Max Unattended Streamer
Max number of unattended Streamers can be deployed
Max Attended User
Max number of user accounts can be enabled with SOS feature
Max Attended Concurrent User
Max number of attended users can establish the SOS session at the same time
Unattended Feature
Max Remote Session
Max number of unattended concurrent sessions on the entire system, even it's set to unlimited, the Max Unattended Concurrent User policy will still be enforced
Max concurrent remote session to one Streamer
Max number of user can be allowed to access to one Streamer at the same time
Max File Transfer (outside session)
Max number of outside session file transfer sessions can be established on the entire system
Max concurrent file transfer (outside session) to one Streamer
Max number of outside session file transfer allowed to one Streamer at the same time
Max Chat (outside session)
Max number of outside session chat sessions on the entire system
Max concurrent chat (outside session) to one Streamer
Max number of outside session chat sessions can be established to one Streamer at the same time
Remote Print
Remote print feature is allowed or not
Remote Wakeup
Remote wakeup feature is allowed or not
Remote Reboot
Remote reboot feature is allowed or not
Remote Command
Remote command feature is allowed or not
Audio
Audio redirection feature is allowed or not
Computer Streamer
Computer Streamer is allowed or not, which means Windows, Mac, Linux
Mobile Streamer
Mobile Streamer is allowed or not, which means Android
Terminal Session
Access RDP terminal session is allowed or not
Multi-to-one Monitor
Multiple screen to one screen is allowed or not
Multi-to-multi Monitor
Multiple screen to multiple screen is allowed or not
Session Recording
Session recording is allowed or not
Attended feature
Max Remote Session
Max number of attended sessions on the entire system, even it's set to unlimited, the Max Attended Concurrent User policy will still be enforced
Max concurrent remote session to one Streamer
Max number of user can be allowed to access to one Streamer at the same time
Computer Streamer
Computer Streamer is allowed or not, which means Windows, Mac, Linux(coming soon)
Mobile Streamer
Android Streamer is allowed or not
Multi-to-one Monitor
Multiple screen to one screen is allowed or not
Multi-to-multi Monitor
Multiple screen to multiple screen is allowed or not
Session Recording
Session recording is allowed or not