This article explains the Splashtop Streamer settings in details.
Status page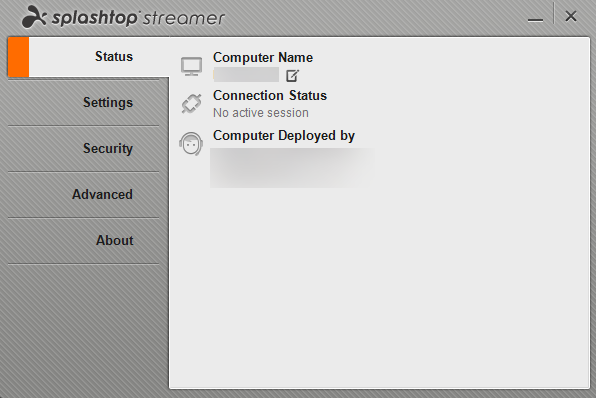 From the Status page, you can find the following information:
Computer Name
The computer name will display in a client app as an identity of the Streamer. It can be modified here, and it can be modified from the client app.
Connection Status:
The connection status indicates whether the Streamer is being connected by a client or multiple clients in real-time.
Computer Deployed by:
It shows the gateway address, the team and account information of this Streamer.
A SSL certificate warning displays in this page if the SSL certificate is not from a trusted CA, e.g. a self-signed certificate.
Settings page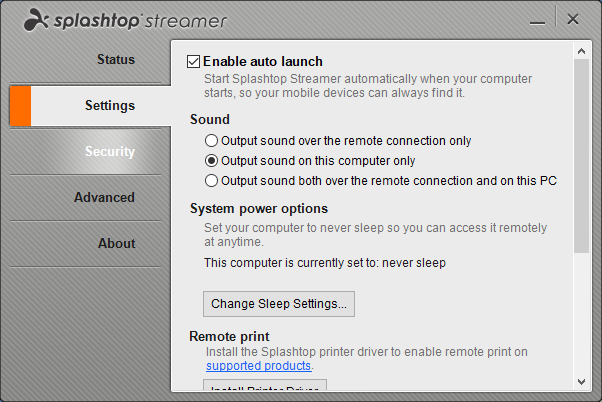 Enable auto launch
If this option is checked, the Streamer will automatically be launched and logged in when Windows starts.
Sound
There are three options for sound output in Windows Streamer:
Output sound over the remote connection only (play sound in client device only)
Output sound on this computer only (play sound in Streamer PC only)
Output sound both over the remote connection and on this PC (simultaneously)
For MAC Streamer, only the first two options are available.
You probably need to install a Splashtop Remote Sound driver in a MAC machine to allow audio to transport from the Streamer to the client device.
If the settings is changed on a remote session, the session is required to reconnect for the change to take effect.
System power options
It displays the system power options, particularly computer sleep options.
Remote print
Remote print driver is available here. For more information about remote print, click here.
Idle session timeout
Setting a clock in minutes to automatically disconnect a remote session if the client is idle for some time
Compatibility mode
Checking this option if you are using old versions of apps and experiencing connectivity issue.
Improve this product
Check this option if you allow to submit anonymous logs and crash reports to Splashtop.
Security page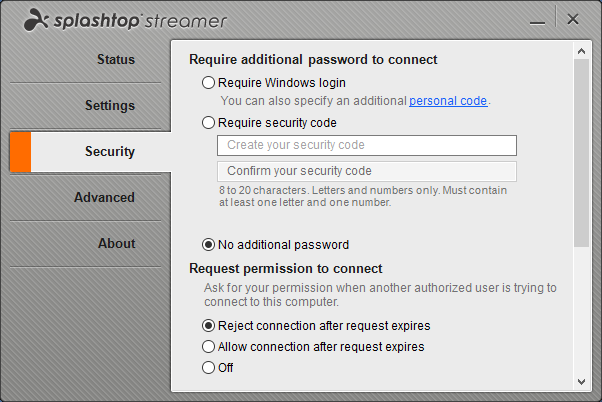 Require additional password to connect
This allows you to add another layer of security to access your Streamer computer.
Three options are available:
1. Require Windows login: the client will be asked to input Windows Credential of the Streamer computer before connection is established
2. Require security code: the client will be asked to input the custom security code defined here
3. No additional password: the client can connect to the Streamer computer without providing credential/password
Request permission to connect
If this option is enabled, an acknowledge window pops up at the Streamer computer whenever a client tries to connect. Based on the setting, the connection will be automatically allowed or rejected if the request is not acknowledged within 10 seconds.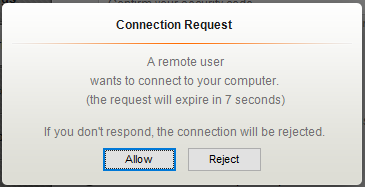 Enable lock screen at the end session
When a remote session is disconnected, the Streamer computer screen will automatically be locked.
Enable blank screen
When a remote session is established, the Streamer computer screen blanks out. Read Blank Screen for more information.
Lock keyboard and mouse
When a remote session is established, the keyboard and mouse connected to Streamer computer are frozen.
Advanced page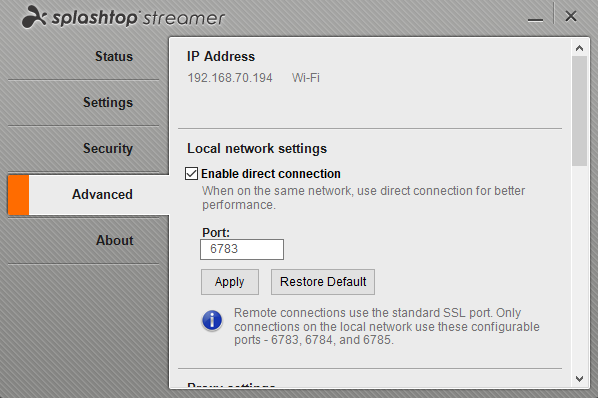 IP Address
It displays the IP address/addresses of the Streamer computer.
Local network settings
Direct connection makes use of the LAN network to transfer data when the client and Streamer are sitting in the same LAN network, and it generally provides faster speed and higher definition.
Direct connection uses port 6783 to communicate by default, and the port number can be changed here.
Proxy settings
1. No proxy: streamer does not use proxy
2. Auto: Streamer will just follow the system proxy settings
3. Manual: you have to fill proxy configuration including server IP, port number, username and password
Screen capturing options
Streamer now allows different methods to capture screens. Read Screen capturing options to learn more.
Hardware acceleration
Hardware acceleration can provide better streaming experience, if hardware (graphic card) supports.
Streamer log files
Two options are available to grab Streamer log files:
1. Send debug log: the log files are automatically sent to Splashtop support. You just need provide the Log ID to the support.
2. Open log folder: it allows you to manually copy the log files and send over to the support.
About page
This page shows the version of Streamer and some other information such as Terms of Service.