It is important to back up system regularly. It helps to recover Splashtop On-Prem system after unexpected hardware/software failure or accidental data deletion. System backups are essential for protection against data loss that can completely disrupt business operations.
Splashtop On-Prem system backup and restore involves the following tasks:
Backup
Restore
Re-activate License
Backup
To start a system backup or restore task, you have to use the team owner account to log in to the Splashtop Gateway web portal. Team owner account is the email address used to activate the license of Splashtop On-Prem system.
After logging in to the Gateway web portal, go to the System menu bar, and then navigate to Maintenance page.
Click on Backup Now button. You are required to set a password for the ZIP file to be produced, before initiating the whole backup process.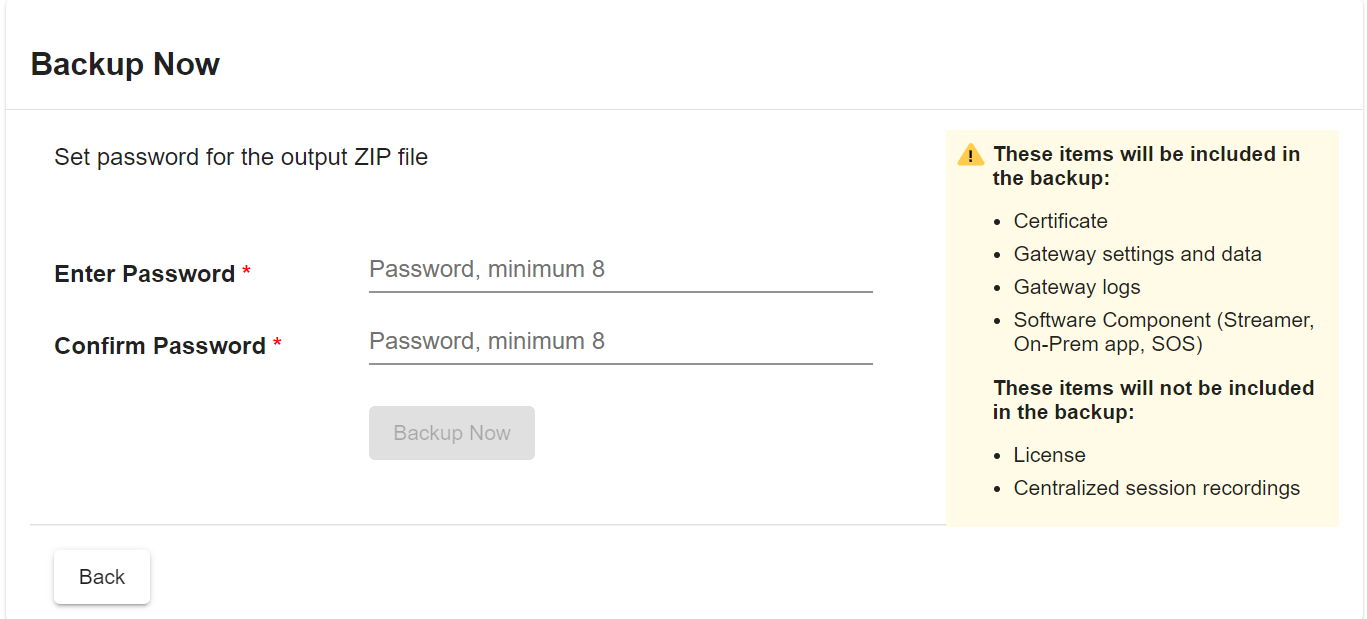 One more click on Backup Now button, a password protected ZIP file will be automatically saved into your browser download folder. This ZIP file contains an SQL script with detailed system configuration, including the system settings, users and groups, deployed computers and client devices, logs and etc. However, license is not a part of the back up, hence the system requires license re-activation if restored from the SQL script.
Restore
Before a restore task is performed, it is important to note:
You have the license key for Splashtop On-Prem at hand. You will be asked to activate the license again after a system restoration.
Get the restore file ready by unzipping the backup ZIP file and saving the SQL script into a local folder.
Back up the current system as all existing configuration will be deleted permanently.
Same as Backup, you have to log in with the system owner account to the Splashtop Gateway web portal, click on System menu and navigate to the Maintenance page.
Click Restore settings button and click on Select button to browse the SQL script file.

Click on Restore button and confirm to restore the system.

Re-activate License
After the Splashtop On-Prem system is successfully restored, the page will automatically be redirected to License page.

Activate the license by online or offline mode, depending on the type of license that you are holding.
Now you have done a successful system restoration.