This article explains how to uninstall Splashtop applications from your computer. Splashtop applications refer to Splashtop Streamers and Splashtop Clients in Windows and Mac.
Windows
Uninstalling Splashtop in Windows is easy and straightforward. Below are 3 different methods to remove Splashtop applications from your Windows computer.
1. Uninstall Using Windows Apps & Features
In Windows Control Panel, go to Settings > Apps, and find the Splashtop application which you wish to uninstall. Select the app and click Uninstall. Make sure your Windows Account is granted permissions to uninstall an app.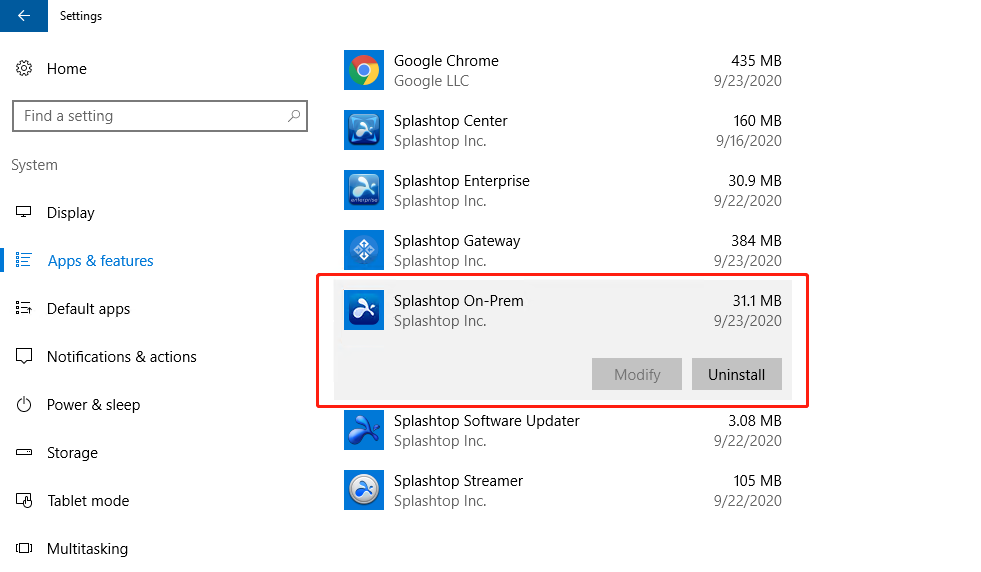 2. Uninstall Using Splashtop Tools
Splashtop provides two small tools to uninstall Splashtop applications from Windows. Download them below:
Uninstaller for Splashtop Streamer: CleanUpInstallerSRS_v1.0.1.0.zip
Uninstaller for Splashtop Client: CleanUpInstallerSRC.zip
Download, unzip and run the EXE file in your Windows. Simple click on Clean button and the removal will automatically be done.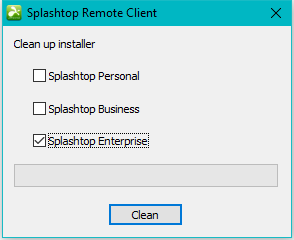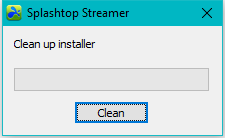 3. Uninstall Using Command Prompt
You'll need an installer to use this method, for example, if you want to uninstall Splashtop Streamer V3.3.6.0 for Splashtop On-Prem, you should get ready a copy of .exe installer file of Splashtop Streamer V3.3.6.0 for Splashtop On-Prem, precisely.
Open a Command Prompt using Administrator account, and browse to the location of the .exe installer file.
Run the line of command below to silently uninstall Splashtop application:
Name_Of_File.exe msiexec /qn /x setup.msi​
Example:

Mac
To uninstall Spalshtop application from a Mac computer, you need get the exact version and edition of the DMG installer.
Double click on the DMG file, and run the Uninstall script.

To uninstall a Splashtop application from a Mac computer, it is important to know its version and edition.
How to tell the version and edition of Splashtop applications?
The version number is always available at the About page.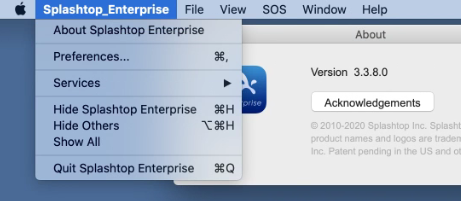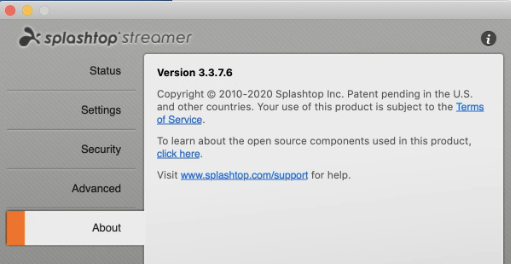 Editions of Splashtop Applications
Splashtop provides various editions of remote control and remote access products, namely Splashtop Personal (STP), Splashtop Business (STB), and Splashtop On-Prem (formerly known as Splashtop Enterprise). They can simply be differentiated by the color of icons: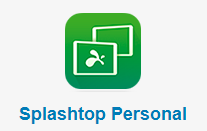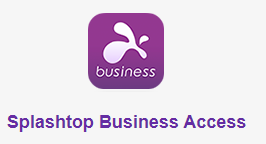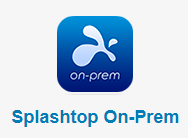 Open the Status page of the Streamer, Splashtop On-Prem Streamer displays the server address in this page, while the others do not.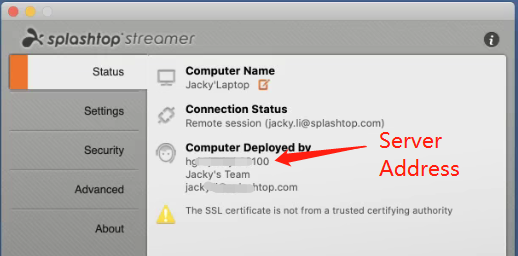 Streamer of Splashtop Business:
Managed Device (RMM)
Click the download here or the link below.
Unzip the file.
Run the Clean up Installer
You have successfully removed the Splashtop App from your PC/Mac, but it keeps coming back automatically after a while, then your PC/Mac is probably a managed device, i.e. this device is managed by either your IT department or MSP (Managed Service Provider) vendor.
IT team or MSP vendor usually use group policies, RMM (Remote Monitoring & Management) or MDM (Mobile Device Management) platform to perform mass deployment of apps on to the managed devices remotely based on a pre-configured policy. If this being the case, you are not allowed to remove the app by yourself.
Please reach out to your IT team or your MSP, and request to remove the Splashtop App from the RMM or MDM platform.