BETA TESTING - We are currently in beta testing phase of this new recording feature. Please contact Splashtop sales to enable this feature in your license if you would like to give it a shot.
With centralized session recording, IT admin can enforce the recording of all Splashtop remote desktop sessions. All sessions are recorded by Splashtop Gateway server, and once this feature enabed the technicians do not need to manually start or stop recording from client app side.
The session recording videos can be played back or downloaded via the Splashtop web console, for training as well as auditing purposes.
Requirements
Local Computer (technician side): Windows and Mac only; Client app v3.5.2.2 or higher.
Remote Computer (endpoint/end user side): Windows, Mac, iOS, and Android; Streamer v3.5.2.2 or higher. If the streamer does not meet the version requirement, the session will be blocked with the following error message.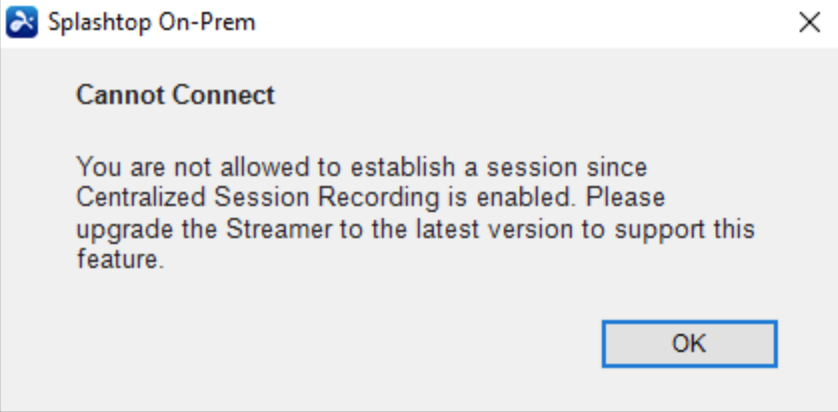 Enable Centralized Session Recording on the Web Console
Please contatct Splahtop sales representative to activate the add-on feature for your license.
Centralized session recording is disabled by default and can be enabled via the Splashtop web console.
(Gateway web console-> Management ->Team Settings -> Remote support / SOS settings)
Detailed Settings
The ability to playback / download or remove recordings can be granted based on user role. Team owner is granted all permissions by default.
For utmost security in handling the recording files, the encrypted streaming data must be stored in your Splashtop Gateway to make sure file integrity. As a result, the LAN connection between Splahtop client app and Streamer will be redirected to your Gateway server.
The recording files are retained for 30 days on your Gateway server. Make sure to download all the files needed in time for future use.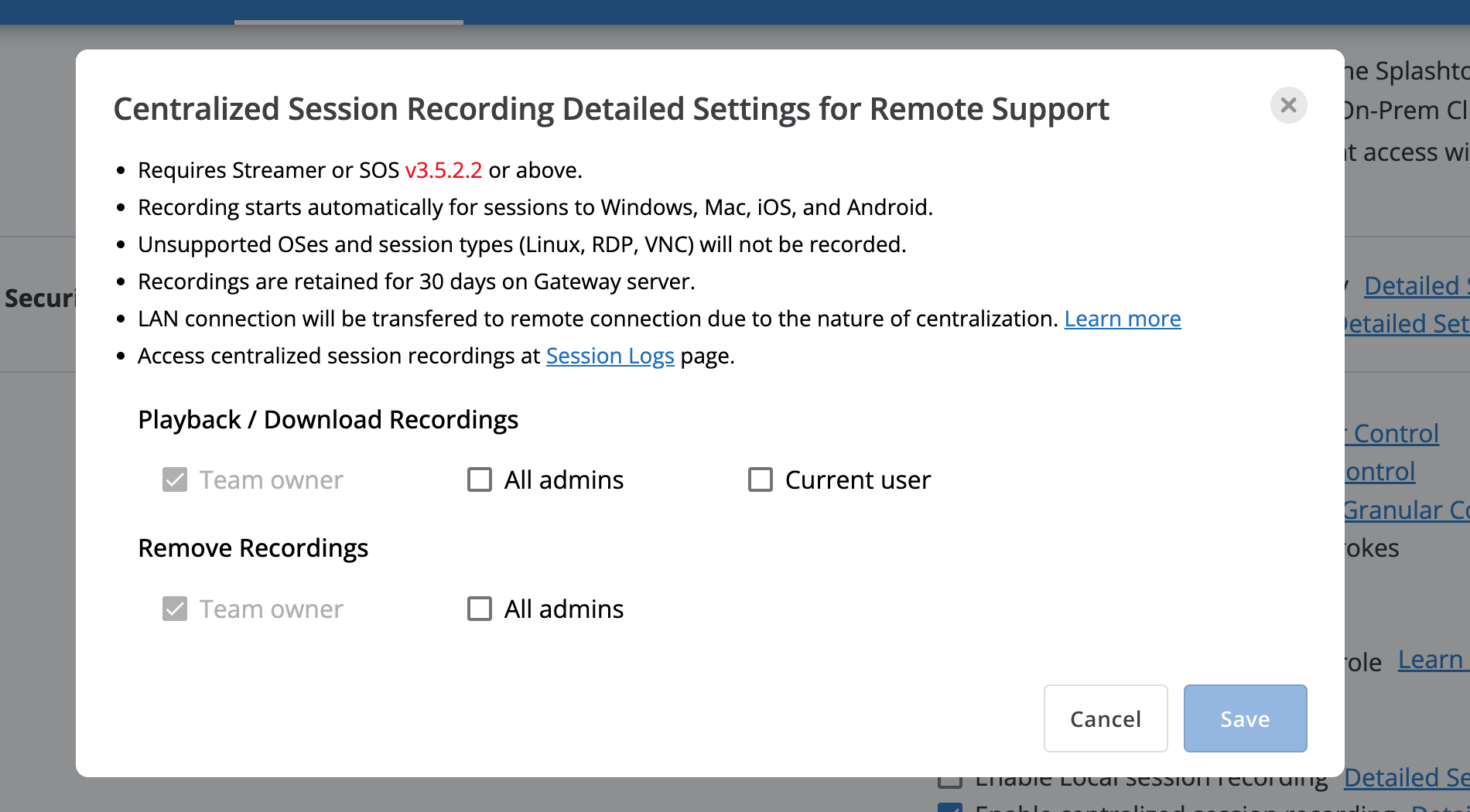 Playback and Downloads
Recordings can be accessed from sessions log page in Splashtop web console.
(Gateway web console -> Logs -> Sessions)

The Recording column on Session logs displays the access methods of a specific session.
Click on the recording icon next to a session to see the recording(s) for that session.
Playback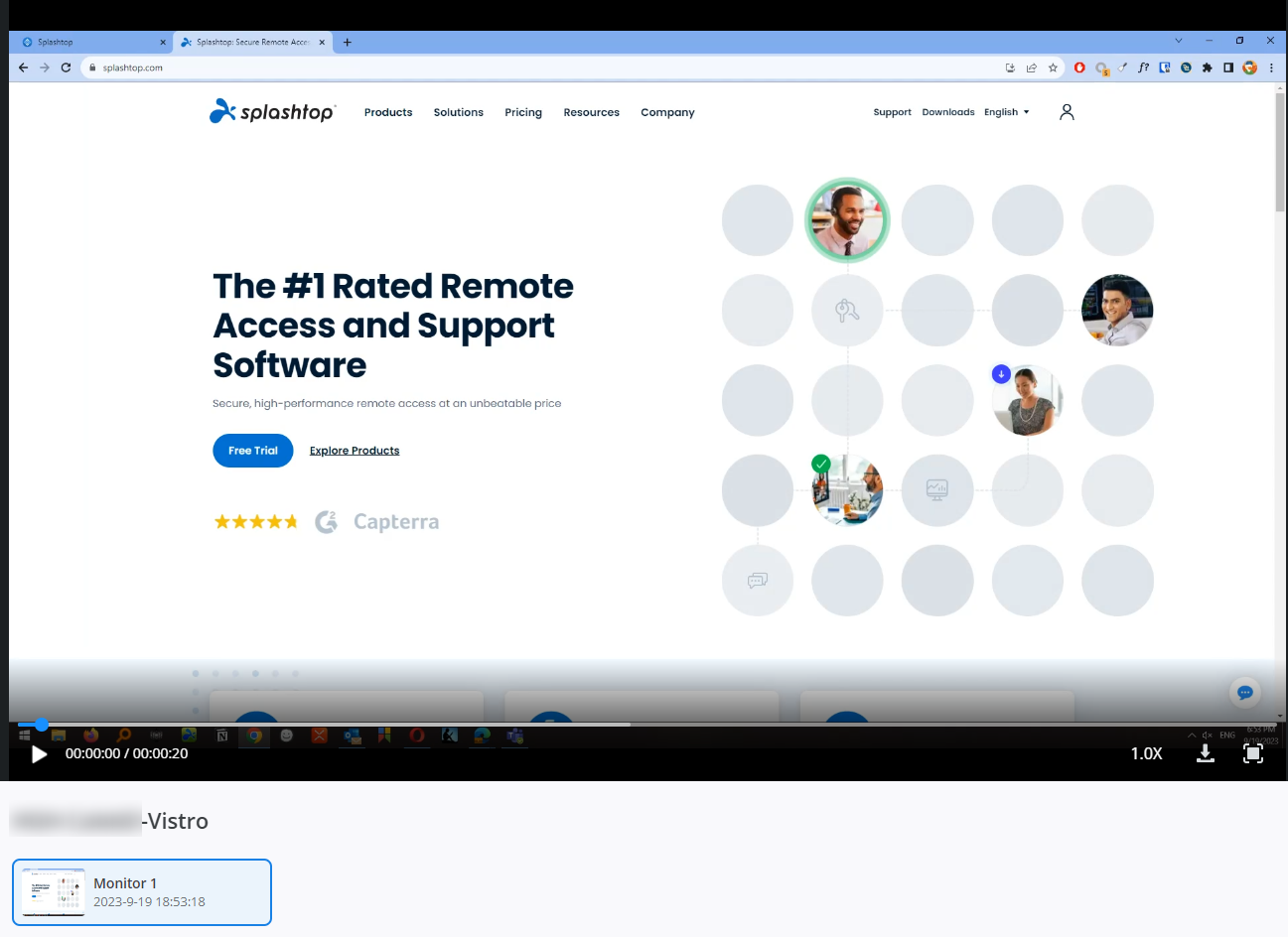 The recording will be split into multiple files when:
File size reaches 512 MB (e.g. if total recording size is 3GB, it will consist of six files).
Technician switches the view to a different monitor.
Technician changes the frame rate.
End user's device switches orientation between portrait and landscape.
Download your recordings

Click the download button either from Session logs web page or Player toolbar to enter the download interface and chose the .mp4 to download.
Notes
Recording is performed by Splashtop Gateway as the sessions pass through them. All sessions will be proxied through Splashtop Gateway so that no other parties can touch the recordings.

Timestamps of recordings are based on the time zone of the session logs.

Mouse cursor and audio are not part of the recording.
If a session has multiple recording files (e.g. if technician switched the monitor view), the files are organized by monitor and by timestamp in the file name (see screenshot above).