When you connect to a computer with Splashtop, you will connect and see the main monitor screen. To change to view/control a different monitor, click on the switch monitor icon.

Then, you can choose the following:
A particular monitor, as the name indicates

All monitors (One window), in this mode, remote monitors will be shown in one window on local computer

All Monitors (Multi-window), in this mode, each remote monitor will be shown as a separated window on local computer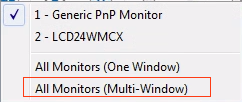 Note: With the Windows Splashtop On-Prem app, you can drag/resize the window with the "All Monitors (One Window)" option to show 2 monitors on 2 monitors.
Additionally, keyboard shortcuts have been added in the 3.2.6.0 release:
Ctl+Alt+# - Switch to a specific monitor #
Ctl+Alt+<right arrow> - Rotate to next monitor
Ctl+Alt+<left arrow> - Rotate to previous monitor