Requirements
Splashtop Gateway v3.18.0
Splashtop Streamer and On-Prem Client app V3.5.0.5 or above
Team Settings
Introducing Session Indicator featured in Splashtop On-Prem Gateway v3.18.0, which mean to provide banner to display the ongoing connect information of current sessions.
In the Team Settings (Gateway v3.18.0), there are options for the Display type:

| | |
| --- | --- |
| Unattended | Attended |
| Pop-up & banner | Banner |
| Pop-Up | None |
| Banner | |
Banner life span

If the Banner option is selected, the end user will see a dark blue box for the entire duration of the session letting them know a Splashtop Session is in progress. The user can click and drag this banner to move it around the screen so it does not get in the way.

If "Allow user to close the banner" is selected, they will see an X on the right hand side of the banner they can use to close the banner. A closed banner will not re-appear until a new session is started.
Banner Usages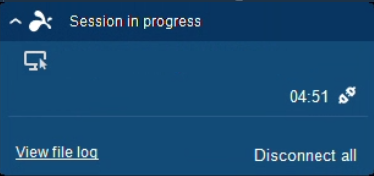 If the user clicks the downwards facing arrow, they can expand this banner to see who is connected, the IP address, how long the user has been connected, an option to disconnect, and the option to view a file log to see if any file transfer has been done.

The Session Indicator banner can also be used to disconnect a session. If the user clicks the downward arrow to expand the banner, then can see how long the current session has lasted and click the disconnect icon to end the session.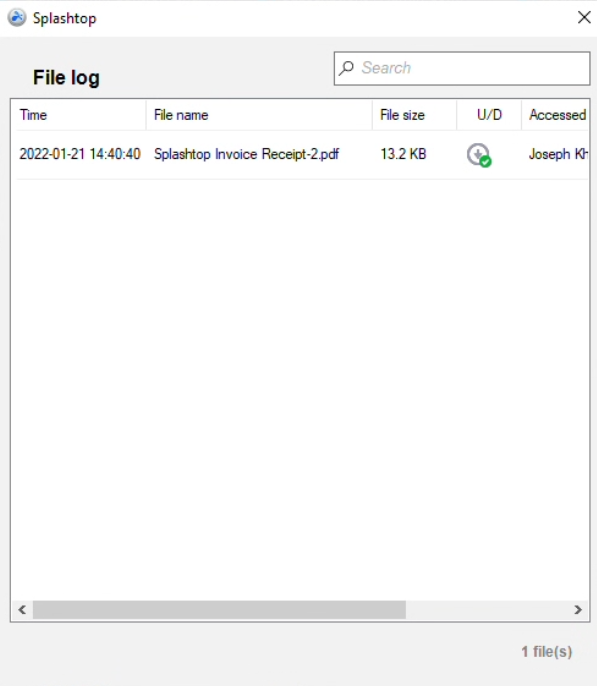 If the user clicks "View File Log", this will open a window that will show the details of any file that was transferred between computers during the session.
Pop-Up

If "Pop-Up" is selected in the Team Settings, users will receive a temporary Desktop notification when you connect, letting them know their device is being accessed.